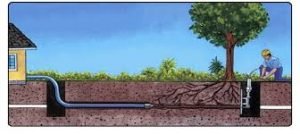 The Benefits with Trenchless Sewer Systems.
1. No destruction to your landscape, sidewalks, driveway, or flooring.
2. Substantial cost savings, especially by not needing escavation services.
3. Restores pipe structural integrity, prevents root intrusion and increases flow capacity.
Trenchless technology has created an alternative to sewer repair commonly referred to as Cured-In-Place Pipe (CIPP). CIPP is where a pipe is constructed "inside the current passage" with certain epoxy resins creating the structural strength of new pipes without damage to structures, floors, hardscape, or landscaping. This process has been in use now for over 25 years.
There are two fundamental types of applications, the 'pull-in-place' (PIP) process and the 'inversion' process. The greatest benefit to the PIP approach, versus inversion, is that it can structurally epoxy line multiple angles and provides the option of only lining the area in need of repair. Pull-in-place does NOT have to line entire distance of the pipe from the point of entry to the point or needed repair which means significant savings and flexibility. The other most common method of CIP lining is Inversion, which is a less innovative method, where the liner itself rolls out from the point of entry as it is permeated with water, air or steam and once cured-in-place, the end is trimmed to allow for flow.
The Trenchless process consists of three steps:
1-First the lines are evaluated with sewer cameras.
2-Next lines are cleaned thoroughly from tree roots and debri
3-Then the liner is pulled into place.
The end result is the creation of a smooth and seamless 'pipe within a pipe.'
An addition benefit, the newer pipe is better. Roots cannot get through physically the new "joint less" pipe. Calcification can no longer occur because the deposits will not adhere to the inner walls of the new epoxy barrier-lined pipe. Best of all, the whole process is done above ground, which means landscape, hardscape, and floors remain undisturbed.
Trenchless sewer repair can save your yard and landscaping from being entirely ruined. It also saves your driveway, by not having to dig up every inch of your yard to install a new sewer system. Many plumbers now offer the new trenchless sewer technology to repair your pipes and keep your yard intact, as well as your electrical, gas, and water lines.
Whether you have old, broken, or root infested sewer lines, a professional plumbing team can replace your old pipes with new, seamless polythylene pipes, saving you time and money in the process. This trenchless technology is referred to as pipe bursting, and only requires a minimum of digging. The plumbers use seamless pipes during this process, eliminating joints that allow root intrusion and exfiltration. Your flow capacity will also be increased, making your entire plumbing system more efficient.
Having trenchless sewers installed will also save you money, because you will not be paying for the labor involved in digging up your yard and driveway, not to mention the cost of putting it all back after the sewer repairs are done. No one wants a big mess in their yard after they have worked for years to get it just the way they like it.
The structural strength of this type of trenchless system is just as strong as any other type of sewer repair and installation process, so it makes sense to save your save money and driveway as you enjoy the benefits of a new sewer system in your home. Plumbing companies are switching to this method more often now that homeowners are aware of the benefits.


AccuFlow Plumbing, Inc is experienced in all phases of trenchless sewer line repair or replacement. Call AccuFlow to save money with this new technology, trenchless sewer line system.