This newer technology clearly explains what is leak detection and the benefits …
Neopress
Published on Jul 22, 2017
Robotic Device by MIT for detecting Leaks in Pipes of Gas, Oil or Water
Here's a new robot that can inspect water or gas pipes from the inside — no matter what the pipes are made of — and find leaks long before they become catastrophic, say researchers.
The team from Massachusetts Institute of Technology (MIT) has developed a new robotic system that could provide a fast, inexpensive solution to finding even tiny leaks.
The system uses a small, rubbery robotic device that can be inserted into the water system through any fire hydrant.
It then moves passively with the flow, logging its position as it goes. It detects even small variations in pressure by sensing the pull at the edges of its soft rubber skirt, which fills the diameter of the pipe, the research said.
It is then retrieved using a net through another hydrant and its data is uploaded. No digging is required, and there is no need for any interruption of the water service.
The tests, in pipes with many bends, T-joints and connections, involved creating an artificial leak for the robot to find.
The robot did successfully, distinguishing the characteristics of the leak from false alarms caused by pressure variations or changes in pipe size, roughness or orientation.
"We put the robot in from one joint and took it out from the other. We tried it 14 times over three days and it completed the inspection every time," said You Wu, a graduate student at MIT.
"It found a leak that was about one gallon per minute, which is one-tenth the minimum size that conventional detection methods can find on average and a third as large as those systems can find under even the best of conditions," Wu added.
The system can also be used for other kinds of pipe distribution systems, such as those for natural gas, the researchers mentioned.
Well, we're not there yet to have this technology in the hands of local plumbers, but it is on the near horizon.
There are other methods and equipment currently being used to proficiently find any gas or water leaks you might have on your property, residential and commercial leak detection.
AccuFlow Plumbing utilizes Leak Detectors that finds and identify leaks in water as well as pressurized pipeline systems– the leak detector listens/looks for resonances created by the pressure modification of escaping fluids and also gasses. Vibration radiation created by the leaking liquid is collected making use of a geo-phone ground sensor as well as fed to digital wave filtering chips in the major unit. These digital sound filters minimize undesirable noises and disturbance in the locator's specific testing atmosphere as well as help to highlight the leak suspects. Discovery abilities are improved with six customer selectable band pass regularities– 100 Hz, 200 Hz, 300 Hz, 500 Hz, 800 Hz and 1,200 Hz. When made use of at its lowest frequency range of 100 Hz, the bell curve frequency action of makes it appropriate for locating leakages in PVC. Drip resonances as well as signal stamina are shown to the customer audibly through the noise terminating earphones and also visually through the integrated LCD panel.
All of this sounds technological and advanced … and it is, but our plumbing experts are authorized and also trained to utilize these kinds of tools to find any leaks you may have.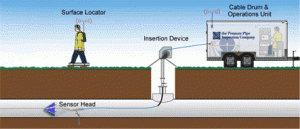 We can additionally use systems that utilizes a tether-controlled sensing unit which is passed through a pipe, providing utilities the possibility to avoid leaks from becoming breaks and saving lost water in the process. Because examinations can be done with an existing 2-inch diameter faucet while the pipe remains in service, there is no disruption to water service. The system is put into a live main via any type of faucet 2 inches or greater in size, and is totally secure for safe and clean water supply. A little parachute utilizes the circulation of water to draw the sensing unit through the pipeline. This certain leak detector uses surface monitoring device allowing the position of leaks as well as various other pipeline attributes to be located to within 18 inches.